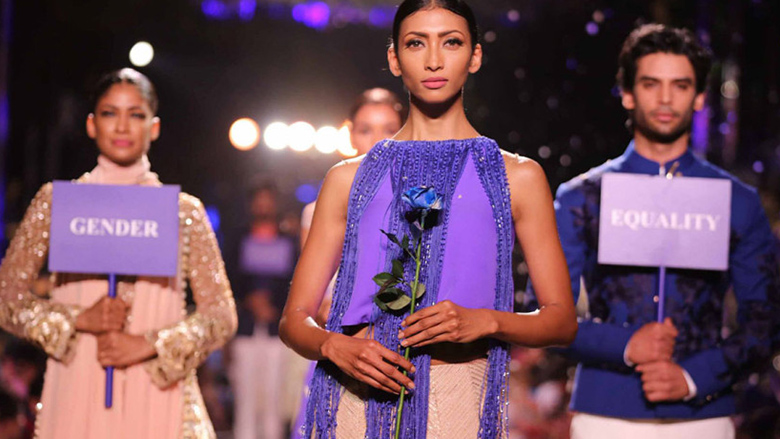 What is the World Bank doing sponsoring a fashion show, as models
sashayed in various shades of blue down the ramp in Mumbai, India, this March?
The event, called the Blue Runway, marked the launch of the
men and women to challenge societal norms that lead to
gender-based violence. The color blue was used to represent
a call to action against gender-based violence – from both
men and women – and the program uses power of the creative
industries – including fashion, digital and social media, performing
arts, film, music etc. – to create awareness and drive social change.
The concept was visualized by Maria Correia, Manager for Social
Development in South Asia, and one of the Bank's leading
advocates on gender issues. It is based on the premise that
young people can 'evolve', develop new attitudes and behaviors,
and build healthy relationships that reduce the risk of gender violence.
While the subject is still taboo in many parts of the world,
estimates that more than one billion women – or 35 percent of
women worldwide - have faced, or will face, intimate partner
violence or non-partner sexual violence in their lifetime.
And the problem does not affect just women alone.
Violence against men, which is both under-researched
and under-reported, is a closely related issue.
Calling young people to action through the creative arts
The Mumbai show had all the makings of a blockbuster.
Hollywood actor Rosario Dawson and an all-star Bollywood
cast – Kajol, Huma Qureshi, Sridevi, Deepika Padukone,
Jacqueline Fernandez and Farhan Akhtar, to name a
few – came together in a strong show of support.
The clothes were designed by one of India's leading
fashion designers - Manish Malhotra - and the front
row seats were packed with well-known designers and
some of India's most prominent personalities from the
social, media and entertainment worlds.
While the models carried banners about empowerment
and equality, the stars talked and tweeted about the issue.
"Young men and women have the opportunity to influence,
challenge and change social norms," said Correia. "Today's
social media and the fast-growing digital world give them a
reach and power that is unmatched in history. WEvolve helps
to open their minds and provides them the tools and language to
become the leaders of a new era, engage their peers and elders, and
think and act differently."
Designer Manish Malhotra explained the role that fashion can play
in helping addresses gender violence: "Fashion has a comprehensive
and universal appeal and can be a powerful instrument to raise awareness
have been effective in getting young South Asian men and women
to engage in a discussion about social norms and violence.
and reached over 3.5 million people across the globe.
WEvolve has also reached out to local partners such as the
and their creative talents on the important issue of gender violence.
Engaging men
Another innovative aspect of WEvolve is its focus
on engaging men. This diverges from conventional gender programs
in two important ways. First, it goes beyond the traditional focus
on women by targeting men directly and not simply "including" or
"engaging" them. Second, it not only empowers women – it empowers
men too, but not by giving them more power over women; rather by
empowering them to challenge prevailing gender norms of behavior.
"At WEvolve, we believe that men are integral to the change
process, and understanding what drives them to use violence is
central to halting it," said Gary Barker, director of Promundo, a
WEvolve partner, and a leading voice on engaging men and boys
for promoting gender equality.
This approach is already proving successful as, interestingly, the
majority of the people who are registering and commenting on the
said Hiska Reyes, the program's coordinator.
What's next?
WEvolve's South Asia team is already establishing new partnerships
with creative organizations. This includes Ram Devineni, a New York
based filmmaker and publisher, who, deeply affected by the heinous
rape that rocked India in December 2012, created the reality comic book
'Priya's Shakti' – or Priya's Power. The comic shows how Priya, a rape
survivor and now a new Indian "superhero", motivates people to change
their ways through the power of persuasion. (The comic received the 2015
Tribeca Film Institute New Media Fund from the Ford Foundation.) With Ram,
the WEvolve team is exploring the design and implementation of comic
book workshops in schools and communities across India where young men
and women can talk about the issues affecting them, particularly gender violence,
while engaging in a creative medium. Other initiatives include engaging the
As WEvolve unfolds and spreads beyond South Asia, it hopes to encourage
more people to speak up, share inspiring stories, and take strong action to end
the scourge of gender violence.
WEvolve works in a global partnership with international and national
organizations, private sector companies, NGOs, and foundations working
on ending gender violence. Partners include Breakthrough, CARE International,
Cornell University, Ogilvy, Pearl Academy, Population Foundation, Promundo,
Show of Force, UNWomen and the World Bank.